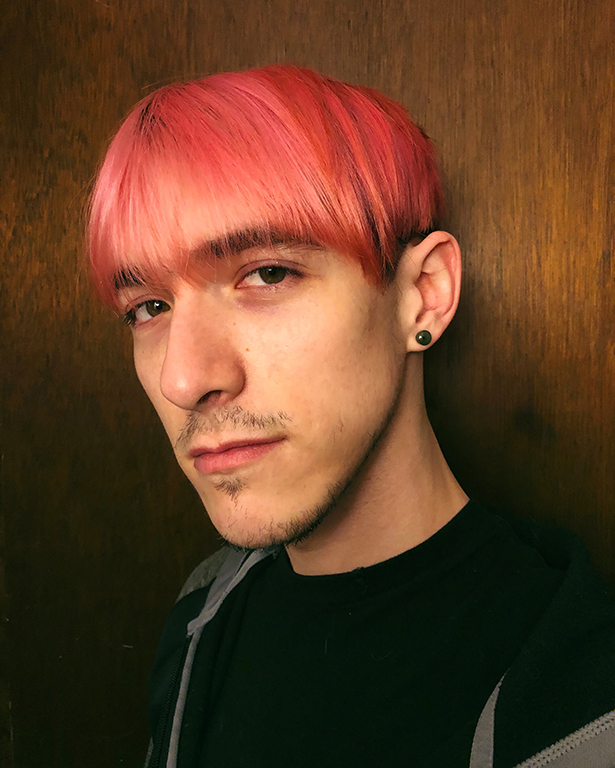 Philip Edward King is a graduate of PSU and formerly worked as Editor-in-Chief of Pathos. 
Q: What are you studying/working on now, as a graduate?
A: While I'll be starting a new job soon as a transcriptionist of song lyrics, in the meantime I continue to develop my art practice. I attended an illustration-focused artist-in-residence program in Finland early last year, and performed at PICA's TBA festival during the summer.
Q: How does your daily life inspire your art?
A: My daily life doesn't take place in a vacuum, so I'm inspired by a wide, dizzying array of things within it. Taking nothing for granted inspires me. Political upheaval and processes inform my art practice. I am in constant awe of my queer community, as well as the resilience of all those oppressed by capitalism worldwide, especially as it operates under Donald Trump's corrupt and illegitimate administration.
Q: What projects are you currently working on?
A: I'm currently working on a long-form graphic narrative urban fantasy project dissecting bourgeois conceptions of utopia and how the horrors of gentrification and the War on Drugs are weaponized in tandem against the working class, people of color, queer people, and other marginalized groups, in order to construct this utopia. I'm also writing a series of epic fantasy novels deconstructing the myths of colonialism, the ideas of science as magic and science as a means of salvation.
Q: What do you do about creative blocks?
A: Creative blocks always present a challenge. I first grant myself room to feel frustrated. I remind myself that I'm not defined by the times when my creativity feels limited. Creating something that I won't share with anyone is important in moving forward. Periods of rest are important, so if I'm not creating I try to stay active in my community and absorb new information. Maintaining some kind of creative inertia usually does a fair amount to help with blocks.
Q: What advice do you have for other artists?
A: My advice for other artists: trust yourself and your sensibilities, and always look outside of your preferred media for inspiration. Allow yourself to be surprised! A painter can learn more from a dancer or musician than from another painter. And if you come away from something with a sense of disappointment, lean into that and interrogate your expectations rather than tearing down others for their efforts. A critical mind is a valuable tool. Use it wisely! Always remember to be kind. With others, and with yourself.
Q: What are your goals?
A: My goals are lofty and always evolving. I want to publish books, contribute to video game development, travel often, read more, establish a fund for artists operating on the fringes of society, be involved in movies, and hopefully get back into the literary arts publication world before too long. All of those ambitions aside, my most immediate goal would be to maintain a stable source of income!