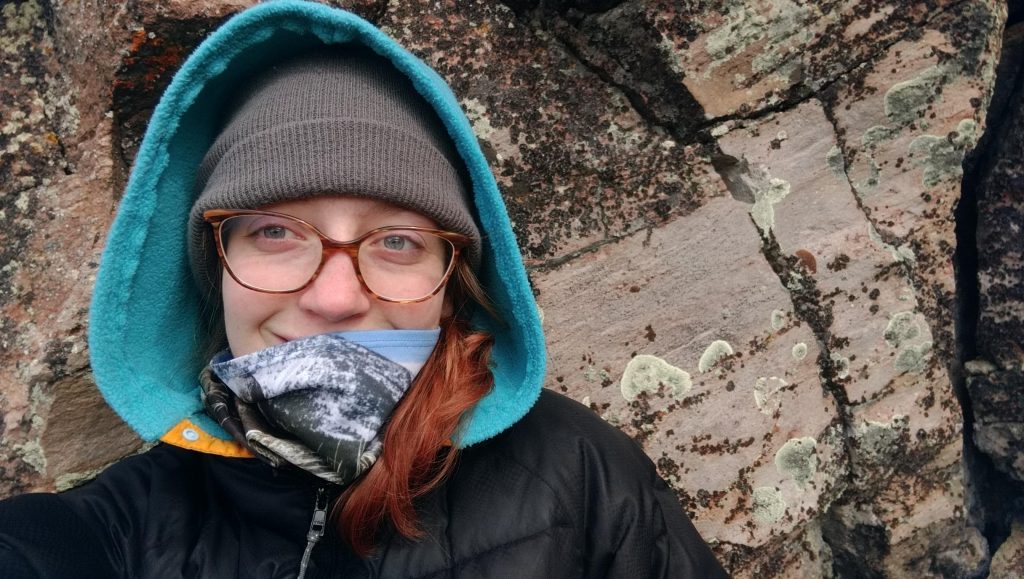 Jess is a 1st year PhD student in the biology department. "I study the evolutionary ecology of cryptogams, which are spore producing photoautotrophs. This includes algae, mosses, lichens, and liverworts. Specifically, I'm interested in how these organisms have contributed to soil formation and the evolution of our current biogeochemical cycles through deep time. It's largely thanks to these organisms that our planet became habitable and this never ceases to fascinate me," Jess remarks. 
Q: What themes do you like to explore in your art?
A: I like to explore the concept of the human/nature relationship especially as it relates to urban environments. I also like to use scientific language and nature metaphors to explore the violence I've experienced as a womxn and my existence as a survivor of abuse more generally. My writing is sort of therapeutic for me and whenever I feel down and out it's where I explore and describe my feelings. Also, as a queer first generation womxn in science, I need an emotional outlet outside of my scientific work where I can explore my inner world and how I relate to the natural world because science can be a hostile and unwelcoming atmosphere sometimes if you're non-normative.
Q: What is your favorite book?
A: Oh it's a toss up: The Three Cornered World by Natsume Sōseki or Wide Sargasso Sea by Jean Rhys.
Q: How do you go about transforming an idea into a finished project?
A: Free time. Creativity requires boredom and if I really want to finish a piece of writing I just try to give myself time and space to explore my ideas and feelings. No shame. No pressure. Also, being outside is always transformative for my writing. I keep a journal when I'm working as a field botanist in the spring and summer and try to carve out time every morning to write a poem a day. Dedicating a certain amount of time everyday really helps me finish a project although I try not to be militant about it because that can be counter productive. Just let it happen or let it go.
Q: What do you do about creative blocks?
A: Read, wait, and give myself credit for what I have done and what I know I'm capable of. That and I go outside and just hang out in nature. For hours to days preferably. A lot of my poems are based on experience I've had while working or hanging out outside.
Q: What are your goals?
A: One small goal of mine would be to publish a piece of eco-poetry. I've had non-fiction and fiction published but not poetry yet. Bigger goals? I want to keep helping the Earth by monitoring and advocating for native plant populations and I want to help to decolonize science. Both those goals are intertwined. I'm still figuring out how to do that as a white person who has a lot of privilege without ultimately contributing to the marginalization of others but hopefully I get better at it everyday. My lifelong goal? No system but the ecosystem!