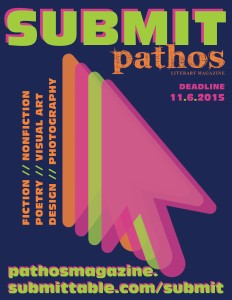 Every student has one: It's the Patronus shielding you from the soul-suck of midterms and finals; it's the settled form of your academic daemon after so many terms of switching your major; the totem you cling to when your sanity has been incepted into a nightmare dimension of perfunctory homework you're just not that into.
It's That One Project that seems to have been assigned to you by destiny, the project that unites everything you've been most interested in studying together under the strongest and most compelling thesis you've ever come up with. You have no problem staying in on weekends to work on it, and it has a habit of coming up at every social event you do leave the house for. It might be a paper or essay, a research project or presentation, or the artistic gem of your portfolio. Whatever it is, it's your favorite assignment of all time. It's the best.
As the primary creative publication by and for the students of Portland State, Pathos Literary Magazine welcomes submissions of all types of creative work produced by our fellow students – both curricular and extracurricular. If you haven't had time this term to work on your usual creative hobbies because you've been pouring all your time, energy, and creative resources into That One Project that you're more proud of than anything – bring it to Pathos!
We're here to elevate and celebrate the best work of Portland State, and we're pleased to accept submissions of the excellent academic projects you've produced on in pursuit of whatever degree you're working towards at PSU. Submissions for the Fall 2015 issue of Pathos will be open until Nov. 6 – see you there!